Posts for tag: dental implants
By Lexington Dental Care
September 14, 2019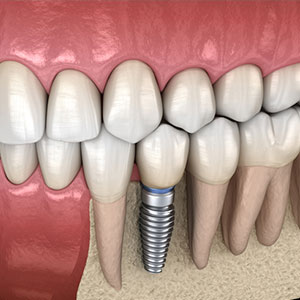 Among dental restorations, implants are the closest prosthetic we have to real teeth. They not only replace the visible crown, but the titanium post imbedded in the jawbone adequately substitutes for the tooth root. Because of their unique design, implants are not only life-like, they're highly durable and could potentially last for decades.
But while their success rate is remarkably high (more than 95% exceed the ten-year mark), they can fail. Ironically, one possible cause for implant failure is periodontal (gum) disease. Although an implant's materials are themselves impervious to disease, the tissues and underlying bone that support the implant aren't. If these natural tissues become infected, the secure hold the implant has can weaken and fail.
A gum infection usually begins with dental plaque, a thin biofilm of bacteria and food particles that builds up on tooth surfaces. Certain strains of bacteria within plaque can infect the gums. One particular form of the disease known as peri-implantitis starts as an initial infection and ensuing inflammation of gum tissues around an implant. The disease can quickly spread down to the bone and destroy the integration between the bone and the implant that helps keep the implant in place.
That's why it's important for you to keep the implant and the tissues around it clean of plaque, just as you would the rest of your natural teeth. This requires daily brushing and flossing around the implant and other teeth, and visiting your dentist regularly for more thorough dental cleanings.
You should also be alert to any signs of disease, especially around implants: gum redness, swelling, bleeding or pus formation. Because of the rapidity with which peri-implantitis can spread, you should see your dentist as soon as possible if you notice any of these signs.
Preventing gum disease, and treating it promptly if it occurs, is a key part of implant longevity. Preserving your overall dental health will help make sure your implant doesn't become a loss statistic.
If you would like more information on caring for your dental implants, please contact us or schedule an appointment for a consultation.
By Lexington Dental Care
August 05, 2019
Generations have depended on dentures to effectively and affordably replace lost teeth. But they do have a major weakness: They contribute to jawbone loss that creates not only mouth and facial problems, but can also ruin a denture's fit.
Bone loss is a normal consequence of losing teeth. The biting forces normally generated when we chew stimulate new bone to replace older bone. When a tooth is missing, however, so is that chewing stimulation. This can slow bone replacement growth and gradually decrease the density and volume of affected bone.
While dentures can restore dental appearance and function, they can't restore this growth stimulation. What's worse, the pressure of the dentures against the gum-covered jaw ridge they rest upon may irritate the underlying bone and accelerate loss.
But there is a solution to the problem of denture-related bone loss: an implant-supported denture. Rather than obtaining its major support from the gum ridges, this new type of denture is secured by strategically-placed implants that connect with it.
Besides the enhanced support they can provide to a denture restoration, implants can also deter bone loss. This is because of the special affinity bone cells have with an implant's imbedded titanium post. The gradual growth of bone on and around the implant surface not only boosts the implant's strength and durability, it can also improve bone health.
There are two types of implant-supported dentures. One is a removable appliance that connects with implants installed in the jaw (three or more for the upper jaw or as few as two in the lower). It may also be possible to retrofit existing dentures to connect with implants.
The other type is a fixed appliance a dentist permanently installs by screwing it into anywhere from four and six implants. The fixed implant-supported denture is closer to the feel of real teeth (you'll brush and floss normally), but it's usually more costly than the removable implant-supported denture.
While more expensive than traditional ones, implant-supported dentures still cost less than other restorations like individual implant tooth replacements. They may also help deter bone loss, which may lead to a longer lasting fit with the dentures. Visit your dentist for an evaluation of your dental condition to see if you're a good candidate for this advanced form of dental restoration.
If you would like more information on implant-supported dentures, please contact us or schedule an appointment for a consultation. You can also learn more about this topic by reading the Dear Doctor magazine article "Overdentures & Fixed Dentures."
By Lexington Dental Care
October 09, 2018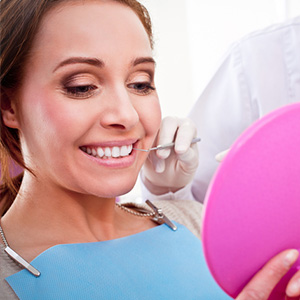 Are you interested in dental implants but a little hesitant about the surgery? Don't be—this procedure to imbed an implant's titanium post in the jawbone is relatively minor with little to no discomfort for most patients.
Some time before, however, we'll need to pre-plan the surgery to pinpoint the best location for the implant, critical to achieving a solid hold and a life-like appearance. During these first visits we often create a surgical guide, a device inserted in the mouth during surgery that identifies the exact location for the hole (or channel) in the bone we'll drill to insert the implant.
On surgery day, we'll prepare you for a pain-free and relaxing experience. If you're normally anxious about dental work, we may prescribe a sedative for you to take ahead of time. As we begin we'll thoroughly numb the area with local anesthesia to ensure you won't feel any pain.
The surgery begins with an incision through the gum tissue to access the underlying bone. Once it's exposed, we'll insert the surgical guide and begin a drilling sequence to gradually increase the size of the channel. This takes time because we want to avoid damaging the bone from overheating caused by friction.
Once we've created a channel that matches precisely the implant's size and shape, we'll remove the implant from its sterile packaging and immediately fit and secure it in the channel. We'll then take x-rays to ensure it's in the best position possible.
Satisfied we've properly situated and secured the implant, we'll suture the gum tissue back in place to protect the implant with or without attaching a healing abutment to it as it fully integrates with the jawbone over the next few months (after which you'll come back to receive your permanent crown). After a short recovery, you'll return to full activity. Most patients only experience mild to moderate discomfort usually manageable with over-the-counter pain medication like aspirin or ibuprofen.
While implantation is a long process, you'll be obtaining what's considered by most dentists and their patients as the most durable and life-like tooth replacement available. Your new attractive smile will be well worth it.
If you would like more information on dental implants, please contact us or schedule an appointment for a consultation. You can also learn more about this topic by reading the Dear Doctor magazine article "Dental Implant Surgery: What to Expect Before, During and After."