Posts for: January, 2021
By Lexington Dental Care
January 11, 2021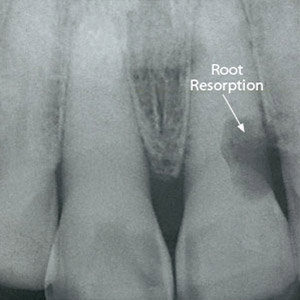 Most dental problems are caused by tooth decay or periodontal (gum) disease, easily preventable with dedicated daily hygiene and regular dental care.  But there are a few other rare conditions to be on alert for that could pose just as serious a threat to your dental health.
One of these is a phenomenon called root resorption. Put simply, certain cells arise within a tooth root that eat away and dissolve (resorb) tooth structure. Left unchecked, it could eventually lead to the tooth's demise.
Although its exact cause remains elusive, we suspect root resorption is associated with trauma to the gum ligaments earlier in life, perhaps from an injury or too much force applied during orthodontics. Other possible contributing factors include teeth-grinding habits or internal tooth bleaching procedures.
Root resorption in adults isn't that common, so your chances of experiencing it are low. But it is still possible, so you should be on the lookout for potential signs: Early on, it may appear as faint pink spots on teeth where the enamel has filled with the destructive cells eating away at the tooth. In time, these spots can increase to form cavities.
More than likely, though, your dentist may detect the problem during a dental exam. That's why regular dental cleanings and checkups are essential—a routine exam is a prime opportunity to uncover conditions like root resorption that silently undermine your teeth.
If found early, we can often treat root resorption effectively. We can often expose a small affected area with minor gum surgery, remove the harmful cells and fill any cavities with a tooth-colored filling. In some cases, we may recommend orthodontics beforehand to encourage a buildup of bone around the root by moving the affected tooth outward from the jawbone. If the resorption has affected the tooth pulp, you may also need a root canal treatment.
There is also the possibility with advanced resorption that the best course of action is to remove the tooth and replace it with a dental implant. So, keep up your regular dental visits—early detection and intervention can stop this destructive dental condition from destroying your tooth.
If you would like more information on root resorption, please contact us or schedule an appointment for a consultation. You can also learn more about this topic by reading the Dear Doctor magazine article "Root Resorption: An Unusual Phenomenon."
By Lexington Dental Care
January 01, 2021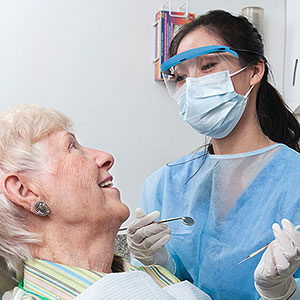 Daily oral hygiene and regular dental cleanings help keep your natural teeth and gums healthy and disease-free. But they're also a priority with dental implants. Here's why.
Unlike other restorations, an implant replaces both a tooth's crown and root, the latter by way of a titanium metal post imbedded into the jawbone. Bone cells grow and adhere to the metal surface, forming a secure and lasting hold.
But although quite durable, this hold differs significantly from natural teeth, which are actually held in place by a tough, elastic tissue called the periodontal ligament. The attachment of the ligament's tiny fibers to both tooth and bone secure the tooth in place, as well as supply it and the surrounding gums with nutrients and defensive antibodies to fight infection.
Implants don't have this relationship with the periodontal ligament. The tissues around an implant are thus susceptible to an aggressive form of periodontal (gum) disease called peri-implantitis. This kind of gum infection can progress rapidly, leading eventually to bone loss and possible failure of the implant.
Daily brushing and flossing of both natural and implant-supported teeth lowers the risk of gum disease, particularly peri-implantitis. It's also imperative that you undergo regular cleanings, at least every six months, with your dentist or dental hygienist.
These, however, won't be the typical cleanings performed on natural teeth. Hygienists don't use metal cleaning implements to remove plaque and tartar deposits because they can scratch the metal materials of the implant and crown. These microscopic scratches can then attract bacteria that trigger gum infections. Instead, they'll use instruments made of plastics or resins.
Hygienists also rely heavily on ultrasonic equipment that vibrates plaque loose on or around implants, which are then flushed away with water. The tips used with these instruments are also typically made of nylon or plastic sheathing.
Even with the extra hygiene care needed, implants still enjoy a 95% or higher survival rate after ten years. You can ensure your implants achieve that level of durability by keeping them clean and seeing your dentist at the first sign of a gum infection.
If you would like more information on maintaining dental implants, please contact us or schedule an appointment for a consultation. You can also learn more about this topic by reading the Dear Doctor magazine article "Dental Implant Maintenance."